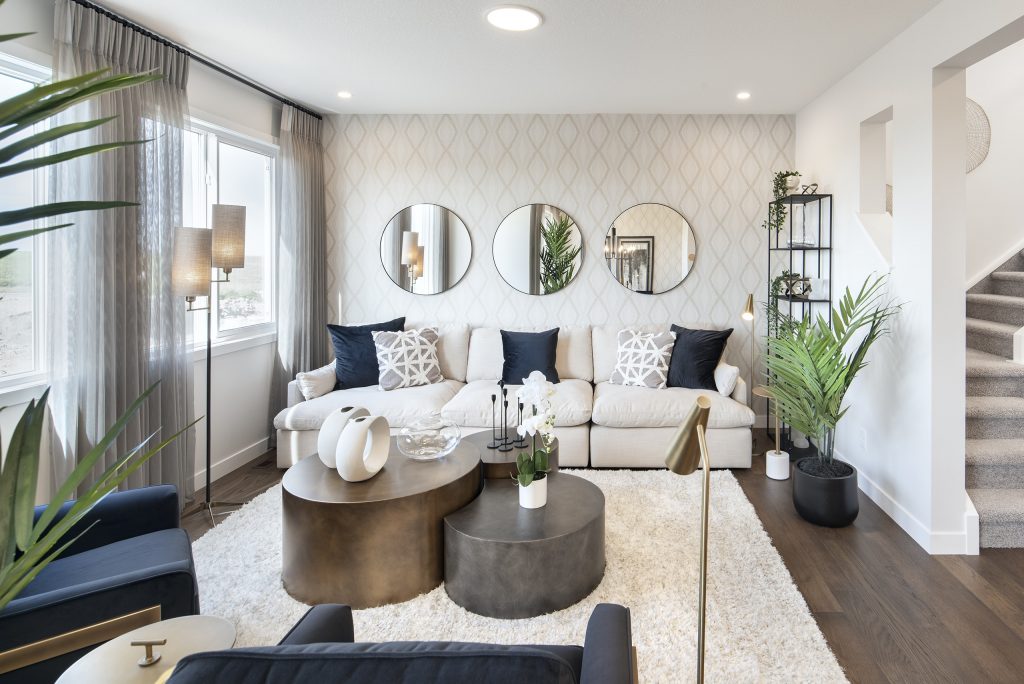 How Much Do You Need For A Down Payment in Calgary?
When planning for a down payment for your future home, you should have three things in mind: the minimum amount you need to qualify for a mortgage, how your monthly payments will be affected, and what that down payment will be able to get you.
Calgary's reliably low cost of living makes homeownership more affordable than Canada's other major centres. You can make your down payment stretch further here than anywhere else!
We've put together some information to show you how much down payment you'll need for a house in Canada, how you can save on your monthly mortgage payments, and what kind of down payment is needed for the most popular home styles in Calgary.
How Much Down Payment for a House in Canada
Minimum Down Payment Required
To qualify for a mortgage in Canada, no matter where you buy, you'll need to put down a minimum of 5% of the purchase price for a personal residence (where you plan to live) or 20% for an investment property (purchasing to rent out).
(There are other minimum lending requirements – learn more about the Canadian Mortgage and Housing Corporation's new rules here.)
Impact on Monthly Payments
If you're putting less than 20% down on your home purchase, you'll likely be required to purchase loan insurance for your mortgage, which can make your monthly payments significantly higher.
Mortgage insurance is determined by the value of your loan compared to the home purchase value and is calculated as a percentage of your mortgage amount. The higher your down payment, the lower your insurance premium will be.
For example, CMHC generally charges a 4% premium if your loan is worth 95% of the home value – but that drops to 2.8% if your loan is worth 85% of the home value. On a $500,000 mortgage, the insurance premium could potentially add about $100 to $350 a month to your payments (or more, depending on your interest rate).
If you can save enough to reach 20% – not only will you be able to avoid loan insurance, you'll save even further on the interest with more money going towards the principal amount.
How much is a down payment for a house in Calgary?
When comparing different cities to live, let's imagine you have $25,000 for a down payment… what might that get you?
That could mean 5% down on a $500,000 property, or 10% down on a $250,000 property. However – $500,000 isn't enough for a house in Toronto and $250,000 won't even get you a condo in Vancouver.
In Calgary, a $25,000 down payment could get you a new single-family home with private parking and outdoor space, surrounded by amenities, less than 30 minutes from downtown.
For as little as $10,000 down, you could live in your own luxury condo – or for just $40,000, you could purchase a premium investment property.
Single Family Home
Let's start with a $400-500,000 budget for a single-family home. (Yes, that is actually achievable!)
In northeast Calgary, you can get a new laned home in the community of Cornerstone with a yard and detached garage for as low as $380,000. Front drive homes, which come with an attached garage for more living space, start closer to $500,000.
For a $400,000 home, your minimum down payment would be $20,000 (5%) for a personal residence or $80,000 (20%) for an investment property.
For a $500,000 home, your minimum down payment would be $25,000 for a personal residence or $100,000 for an investment property.
(See how much extra house or extra upgrades you could potentially get for only $5,000 more down?)
Town Homes
Townhomes are a great way to get a spacious home, yard and garage, with a slightly lower price tag than a fully detached home. Fee-free townhomes are available, which helps even more with affordability.
You could get a gorgeous townhome in Cornerstone with less than $20,000 down – layouts with 3 bedrooms and 2.5 bathrooms start in the low $300s.
For a $350,000 home, your minimum down payment would be only $17,500 (5%) for a personal residence or $70,000 (20%) for an investment property.
Condos
Condos in Calgary offer the easiest opportunity for affordable home ownership – they also make an ideal investment, considering how far your down payment goes.
For $200-300,000, you can own a luxurious condo at Legends of Cornerstone, which comes with all kinds of amenities that won't be found in your average family home. You could get a new home for as little as $10-15,000 down!
A spacious 1-bedroom 1-bathroom condo in Cornerstone starts just under $200,000 – which means $10,000 (5%) down for a personal residence or $40,000 (20%) for an investment.
(For an extra $2500 down, you could increase your budget by $50,000 and get another bedroom and/or bathroom for your family!)
Layouts with 3 bedrooms and 2.5 bathrooms start under $300,000… that's only $15,000 down for a family home or $60,000 for an investment property.
Buying A Home in Calgary
Remember, mortgage terms are highly individual. Talk to a mortgage specialist to learn about all your options, so you can find a home that fits your family and your budget.
Check out our FAQ to learn more about mortgages and buying a home during COVID-19.
Browse through the home styles available in Cornerstone to see what suits you best – contact us to book a showhome tour.