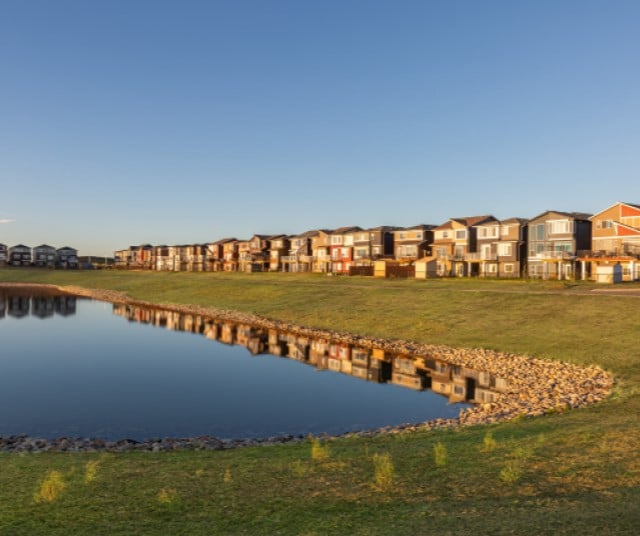 How to Choose the Best Lot for Your Home
Buying a new home is an exciting time, yet some of the decisions you have to make can be daunting. One such task is choosing the lot your home will be built on. The type of home you select will help you narrow down the options. For example, a front drive home and a rear detached garage would have different lot availabilities. Once you have a better idea of the kinds of houses you are looking at, you can move forward with refining your lot choice.
Different Lot Types
A common lot type you will encounter is the zero-lot line. According to Mike Liebel with CIR Realty, "Zero-lot lines can be a great solution to enhance the utility and usability of narrow lots in communities." A recent Calgary Herald article elaborates by explaining that, "the zero-lot line segment is an emerging option in master-planned communities across Calgary. It involves building against one side of the lot, setting up a five-foot-plus separation between the home and neighbour." If you want to maximize your space without stressing your budget, a zero-lot line home would be a great fit for you.
If you like having easy access to the rear portion of your property, choosing a rear lane or corner lot might be the best option for you and your family. A corner lot is exactly that, a lot situated on the corner of two streets with frontage on two sides. This type of lot opens up the side yard but can be a bit pricier due to increased desirability and architectural detail required on the exterior. Another lot of choice is an interior lot, which is a lot fronting only one street with houses on either side and a yard behind the home. Interior lots can afford a bit more privacy and quiet as you are farther from street traffic.
"Corner lots often provide a large side yard in addition to a front and backyard and can offer more flexibility for growing plants." — Better Homes & Gardens
Lot Location
If you appreciate easy access to your home, choose a lot near the entrance of the subdivision to facilitate quick in/out travel. Check out the transit routes as well. A lot located on a bus route allows for easy commuting. If you're thinking about children, you may want to choose a lot close to a park or recreational centre. Additionally, most well-planned master communities offer prime lots that back onto a green space or pond.
Sun Exposure On Your Lot
The sun exposure is another key aspect to consider. If you're an avid gardener, a backyard with a southwest exposure will make sure your plants get the rays they need to thrive. Couple this exposure with a pie-shaped lot and you can eat local all summer! If you're more of a low maintenance type of yard person, a northern exposure may suit you well—with the additional benefit of keeping you cool in summer. For those of you that are morning people, choose a backyard with an eastern exposure and get ready to enjoy those morning coffees on the deck. Prefer a cold drink in the afternoon? Then west-facing backyard exposure may be just the ticket. Visit a few lots at different times of the day to get a good sense of the sun direction and where your preference lies.
Slope of Your Lot
Take a minute to ask your sales representative to explain the lot slope. Some lots may slope from front to back, others back to front. Ask whether your chosen home will fit best on a particular slope. It may be that a regular or level lot would be a wise choice. If you've opted to have a walk-out basement, however, the slope may play a major role in lot choice. Generally, walk-out basements require a front to back slope.
No one size fits all when it comes to lot choice. Online lit maps are a good place to start; however, be sure to drive through the community, visit the parks and amenities, and generally get a feel for the neighbourhood and the different lots available. Stop in at the showhomes to consult with your sales representative. They know the community best and are well-versed in which home fits best on each lot type. They can answer your questions and probably even offer you some suggestions you hadn't thought of yet. They can help make choosing your lot an enjoyable and rewarding experience. Happy lot hunting!