FIND THE CORNERSTONE COMMUNITY IN CALGARY'S NORTHEAST
Cornerstone is only 20 minutes from Downtown Calgary: take Stoney Trail or Country Hills Blvd. to Metis Trail NE. From Metis Trail, head east on 128th Avenue, through SkyView Ranch to Cornerstone.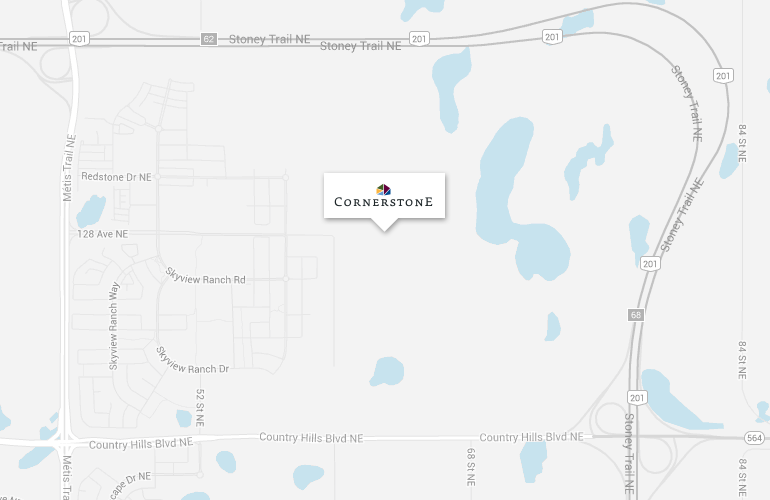 Whether you're looking for your first home or your forever home, Cornerstone showhomes in Calgary are designed to show you the full range of designs, floor plans, and possibilities.
Our community is built with an intuitive sense of style, with thoughtfully master-planned spaces and a 'small town' feel. The best way for you to experience the possibilities in Cornerstone is by stepping into one of our gorgeous new show homes.
To ensure everyone can create their dream home with ease, Cornerstone works with Calgary's top home builders providing a range of beautiful products. Cornerstone's builders include Shane Homes, Truman Homes, Pacesetter Homes, Morrison Homes, JaymanBUILT, Yorke Townhomes, and Legends of Cornerstone.
Find our Show Homes
Morrison Homes:
Duplex Homes Sales Centre 306 Cornerstone Heights NE, Calgary. Get Directions →
Laned Homes Sales Centre 38 Cornerstone Road NE, Calgary. Get Directions →
Pacesetter Homes:
Laned Homes Sales Centre 10 Cornerstone Road NE, Calgary. Get Directions →
Shane Homes:
Duplex Homes Sales Centre 206 Cornerstone Heights NE, Calgary, AB. Get Directions →
Townhome Sales Centre 838 Cornerstone Blvd NE, Calgary. Get Directions →
Front Drive Homes Sales Centre 115 Cornerstone Road NE, Calgary. Get Directions →
Jayman BUILT Homes:
Laned Homes Sales Centre 18 Cornerstone Road NE, Calgary. Get Directions →
Truman Homes:
Yorke Townhomes Presentation Centre 1204 Cornerstone Street NE, Calgary. Get Directions →
Legends Apartment Condominiums Presentation Centre 1208 Cornerstone Street NE, Calgary. Get Directions →