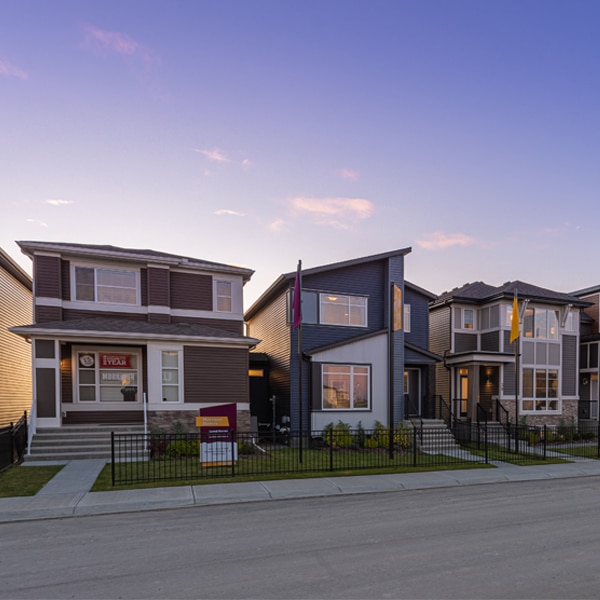 Reasons to Buy a New Home Over a Pre-Owned Home
Buying a new home is likely be the biggest financial decision you'll ever make. Spending money on real estate is a smart investment that can bring a good return over time, but it's still important you find and purchase a home that best suits your needs and lifestyle.
There are many benefits to purchasing a brand new home, and it's important to remember that just because it is built brand new, doesn't mean it has to be outside of your budget. When you build in a community like Cornerstone, you have a range of home options available to fit your ideal of the perfect home, and to fit your budget. Here are some pros of buying a brand new home vs. a pre-owned home:
1. You will get exactly what you want
Imagine having your new home built exactly how you want it from the ground up. You can work with a home builder to create a home design plan that is unique. For example, if you need a home office on the main level and a fitness room in the basement, those things can be incorporated into your home depending on the homebuilder you are working with and, of course your budget. Get started by looking at some standard floor plans available in the showhomes. Home builders in Cornerstone offer a wide range of floor plans for single detached homes, duplexes, and townhomes.
Then comes the fun part! Once you choose the type of home and its layout, you can start choosing the finishings. This is where you get to choose things like wall colour, doors and trim, countertops, cabinets, and backsplash. Working with a home builder's design team will allow you to choose finishings that flow well with the overall design of your home and match your personal taste and lifestyle.
2. You won't worry about unexpected and expensive problems
When you buy a pre-owned home, you never truly know exactly what you are in for. You might discover faulty wiring in the basement from a previous renovation, or that you have a leaky roof or window the first time it rains. All homes require regular maintenance and repairs, but with a pre-owned home, you'll never really know how the home was maintained in the past and what kind of expensive repairs might pop up in the future. You may also encounter some DIY home repairs or renovations that have just masked a bigger problem.
You'll gain real peace of mind by purchasing a brand new home. Calgary home builders ensure that everything is built and inspected properly before you move in, from mechanical systems and structural components, to all the finishing touches like your cabinetry and trim. New houses also come with a comprehensive New Home Warranty programs, so if there are any issues and something does need to be fixed, you can be sure it won't result in an immediate and costly bill to pay.
3. New homes are more energy efficient
Today, new builds in Calgary are built to a much higher energy efficiency standards compared to how homes were built even only five years ago. New homes are outfitted with the latest high-efficiency heating and cooling systems, energy-efficient windows and doors, and new insulation, with a multitude of options you can include like energy-efficient appliances. This will ensure your new home has reduced energy consumption, and less energy will be lost through the ceiling, windows, and doors. Your monthly utility bills in a new home will likely be lower compared to a pre-owned home without these features.
Build in Cornerstone
When you choose to build a new home in Cornerstone, you will have plenty of options. From front-drive homes, duplexes, townhomes, courtyard homes, and zero-lot line homes, you'll find something that will best suit your lifestyle and budget.
Come see the new houses in Cornerstone for yourself! Builders have showhomes open and it's a great opportunity to check out the neighbourhood. Learn how to find Cornerstone and browse the online new home galleries at liveatcornerstone.ca.