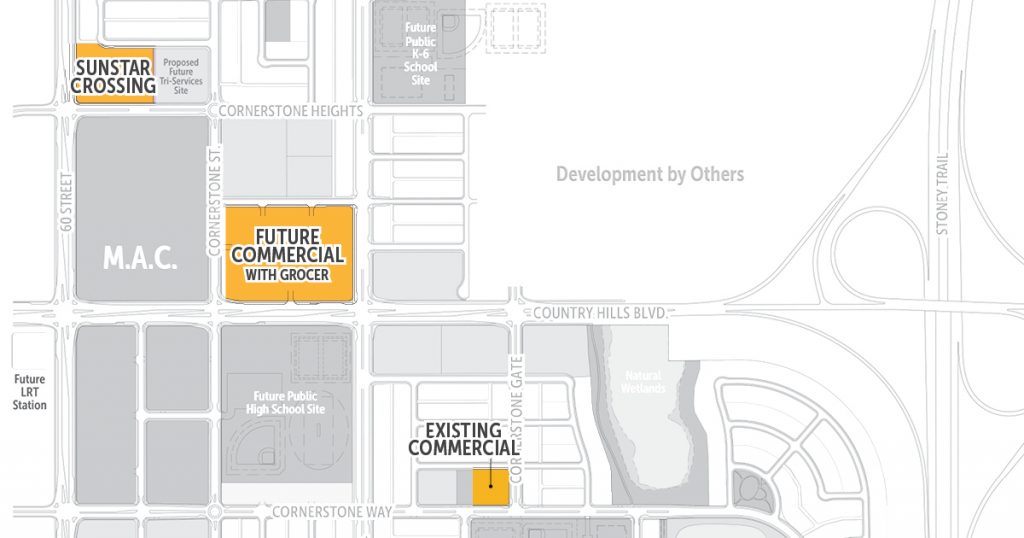 How Shops and Services Increase the Value of Your Home
Many factors impact the value of your home. From improving curb appeal by adding landscaping to building a detached garage to your laned home, there are so many ways to increase the value of your home. There are also external impacts on your home value that you cannot control. One of the main impacts is location. If you have amenities within walking distance, your home value will grow in value as it is more convenient with shops and services nearby.
When a new commercial development opens nearby it makes life more convenient. You no longer have to drive into another community or on highways to pick up milk or take your kids to daycare, everything is right there in your community. The value is created by saving time and simplifying your day. In many cases, being close to amenities is appealing when you go to re-sell your home. Sometimes, the traffic or noise can be a drawback, but when you build in a master planned community, the street layouts are thoughtfully arranged and provide space and fences to buffer this noise so you can have the best balance of peace and convenience. 
Commercial open now
As Calgary's largest new community, Cornerstone has plenty of existing and future amenities. Three commercial sites are either complete or starting construction very soon.
Currently, there are shops and services open in phase two of the community, which include a dentist office, daycare, liquor store, and more neighbours will be moving in throughout the year.
Future commercial you can look forward to
Two additional commercial sites are planned or underway in the community. 
Sunstar Crossing on 60th Street and Cornerstone Heights is currently under construction. It is a 4.5 acre site with over 50,000 square feet of space. It will be home to medical services, a Punjab grocery store, daycare, restaurants, liquor store and convenience store.
There is also a site in phase four owned by Anthem Properties which will be home to over 120,000 square feet of commercial space. This site will have a grocer and a mix of other retailers such as banks, restaurants, medical services and more. 
If you are interested in opening your own business close to your home in Cornerstone, please email calgary@anthemunited.com for more information.