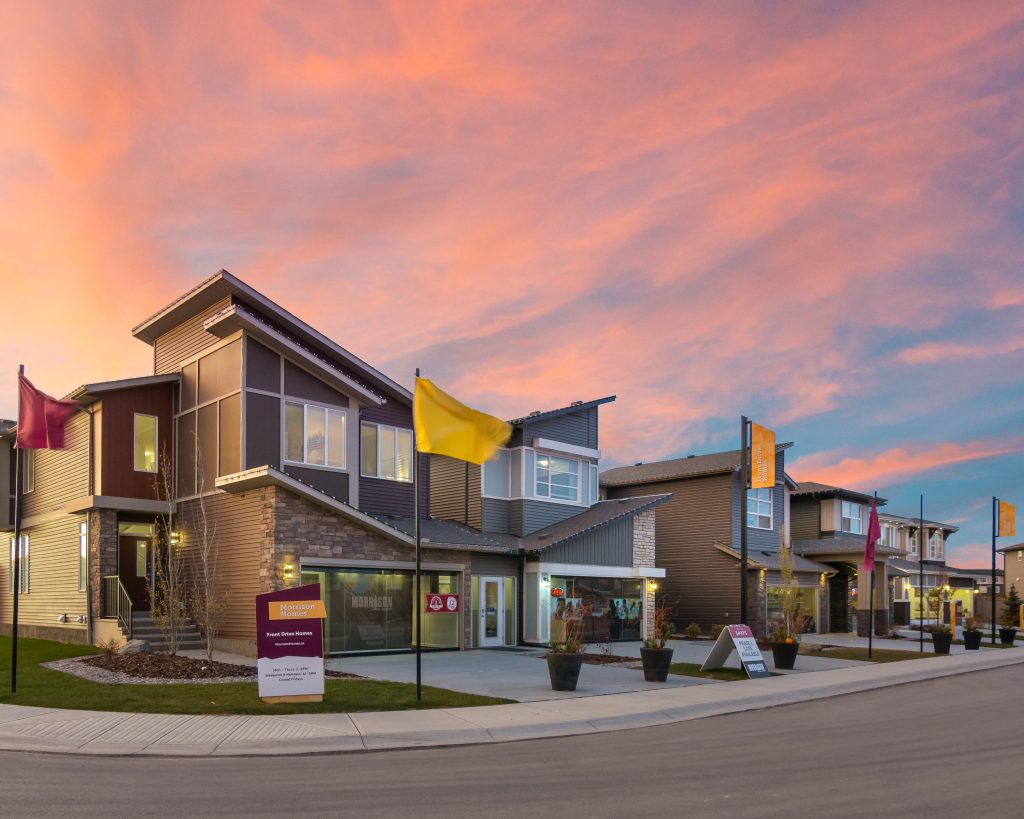 Home Design Styles Explained
Architectural guidelines are a key part of the home building process. As a foundation for consistency and cohesion within a community, architectural guidelines ensure common elements upon which the different houses in a neighbourhood can be linked. This contributes to the increase and maintenance of a community's value as a whole and in the long-term value of your individual home.
Cornerstone's Home Architecture Guidelines
Cornerstone provides a selection of progressive traditional style homes: Modern Prairie, Urban Modern, Craftsman, Arts & Crafts, French Country, Tudor, and Brownstone. Distinct and recurring combinations of these styles follow Cornerstone's architectural guidelines in each of the different Cornerstone neighbourhoods. These homes are considered progressive traditional because each builder is encouraged to include their own modern interpretation of these classic design styles. Each homeowner is free to feature any popular interior design style of their choosing. The consistent use of these traditional design styles with the exterior of our homes helps create a natural flow in Cornerstone's streetscape.

Below, we have provided a quick, convenient breakdown of each Cornerstone home architecture style.
Modern Prairie
All Cornerstone neighbourhoods contain the popular Modern Prairie style homes. Originally developed in Chicago in the early 1900s, this home architecture design is reminiscent of the prairie landscape. It is characterized by features such as low proportions, simple trims, open interiors, smooth stonework finishes, and large, consistently configured windows. These features give Modern Prairie homes a timeless yet modern design style.
Urban Modern
The Cornerstone Gate community includes Modern Prairie style homes along with Urban Modern style homes. Urban Modern home architecture is known for clean lines, with a focus on contemporary design and theme. When it comes to architectural guidelines, this contemporary style of home is most well-known for flat or angled modern slanted roofs. The exterior of an Urban Modern house can feature large panes of glass, unique materials and entry features, simple or edgy detailing. Interior designers will often soften the look of these homes with a comfortable interior style in the living room or emphasize it with equally contemporary interior design.
Craftsman
Cornerstone View neighbourhoods combine Modern Prairie homes with the stunning architectural design of Craftsman style homes. The Craftsman style is a product of the English Arts & Crafts movement. Some of the hallmarks of this architecture style are wood tones and natural materials that work in harmony with a building's natural surroundings. Craftsman home architectural guidelines call for front-facing modern low sloped open gable rooflines, full or wrapped porches, simple square columns, and repetitive window patterns.
Arts & Crafts
Arts & Crafts style homes join Modern Prairie architecture in Cornerstone Ridge neighbourhoods. This style originated from the international Arts & Crafts movement popularized in Europe and North America between 1880 and 191. Arts & Crafts architectural design for the home is known for its simple, handcrafted folk decorating style. It is often accompanied by strong colours, and bold forms, features that were inspired by classic medieval designs. There is a strong focus on showcasing the quality of materials used, which conveys a specific rustic effect. This effect is heightened with steep, peaked roofs, flat roof accents, strong accent materials, unique entry features and details, and large, modernly configured windows.
French Country
In the Cornerstone Point neighbourhood, French Country style homes based on sophisticated French countryside cottages and estates are eye-catching focal points. Long, sweeping rooflines and roofs with multiple elements that guide viewers along the property are staples of this style of home architecture. French Country home architecture also typically includes stately brick, stone, or stucco two-storey façades. The architecture guidelines for this style require smooth stonework finishes, steep, pitched roofs. The features are accompanied by flared eaves or curved slopes — formal details, and multi-paned windows with the option of arched tops.
Tudor
Tudor home architecture takes centre stage in Cornerstone Park. The style takes its simple, rustic feel from medieval cottages and country houses. Its inspiration manifests in Tudor architectural guidelines with front-facing steep pitched gable rooflines. These rooflines typically end in straight or angled gables, stucco or stone veneered walls. Some other features of a tudor home include pillared porches, ornamental battens, repetitious windows, tapered chimneys finished in brick or stone, and lots of smoothly finished stonework.
Brownstone
Finally, Cornerstone Boulevard focuses on the Brownstone architectural design for the home. The often three- to four-storey homes are a quintessential eastern American architectural fixture. The Brownstone's namesake comes from the red-brown exterior stone facing many of these structures. The Brownstone architectural guidelines call for front-facing steep gable rooflines, plenty of smooth stone finishes, strong, uniform porches with modern detail, and ornate trim detailing.
Beyond Architectural Guidelines
Beyond the provided architectural guidelines, there are many different features of your Cornerstone home that can add to its uniqueness. From the final lot location to the many landscaping choices, there are myriad design elements available to make your home distinctly yours.

Working with your Cornerstone builder, who will guide you through decoding the architectural requirements and design features of your new home, you can customize your dream home. Explore our site for more detail into the specific requirements that must be addressed for each of these elements and Cornerstone communities.