Duplex Homes
Duplexes in Calgary have been gaining popularity over the last few years. They are an affordable option for first time home buyers, while purchasing both sides of a duplex catches the interest of homebuyers who want to live on one side and rent the other for passive income.
Duplex homes in Calgary are a popular side by side attached home option for home buyers on a budget. These homes showcase all the incredible design features of a single family home and the standard features and options you have come to expect from the Cornerstone homebuilders. Duplex homes come in a range of sizes, with your own yard, no condominium fees and a price you can feel confident with.
 Our duplexes are the perfect choice for growing families searching for the ideal affordable home. The side by side option is appealing to large multi-generational families who want to stay close and connected without sacrificing necessary space.
Duplexes For Multi-Generational Families
Cornerstone's builders offer a variety of purchasing options including quick possessions, presale and purchase of both attached duplex homes to ensure you are close to family.
Many multi-generational families are moving away from in-law suites and instead favouring a full duplex (purchasing both sides of the duplex home) to accommodate their large family. If you're considering moving closer to your ageing parents or in-laws, our duplexes can accommodate a multi-generational home plan that will keep your family close while giving you much needed autonomy and independence. If you're looking for a traditional detached home with in-law suites, check out our front drive homes or laned homes.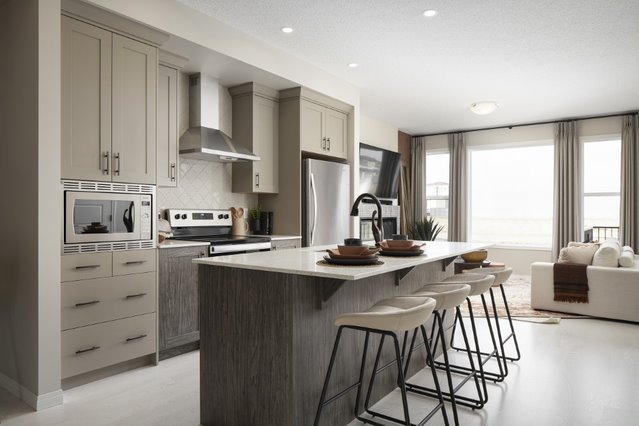 Morrison Homes
Morrison Homes's commitment to quality and craftsmanship is reflected in their accolades, including 13-time Builder of the Year in Calgary, six-time Customer Choice Winner and one of Canada's Best Managed Companies.
Shane Homes
With Shane Homes, you're getting so much more than a quality constructed home. Along with our decades of experience, our love it or customize it philosophy ensures you're building your dream.